Tam Metin Gönderimi Uzatılmıştır
Tam metin gönderimi 17 Aralık 2021 Cuma günü saat:23.59'a kadar uzatılmıştır.
Teknik hata ya da gecikme sebebiyle tam metin yükleyemeyen katılımcılarımız sistem üzerinden tam metinlerini gönderebilirler.
Önemli: Tam metin gönder butonu aktif olmayan katılımcıların "kesin kayıt" yapması gerekmektedir.
Katılım Belgeleri Hakkında (Güncel)
Katılım belgeleri düzenlenmiş olup, pdf versiyonuna sistemden erişilebilmektedir.
Önemli: Katılım belgesini göremeyen katılımcıların "kesin kayıt" yapması gerekmektedir.
Tam Metin Bildiri Dosyası Gönderimi
Bildiri Tam Metnini yüklemek için öncelikle site üzerinden Kesin Kayıt işlemini yapmış olmanız gerekmektedir. Kesin Kaydınız var ise;
Giriş yapıp, Kişisel sayfanızda bulunan bildiri bilginizin altındaki Tam Metin Yükle düğmesine tıklayınız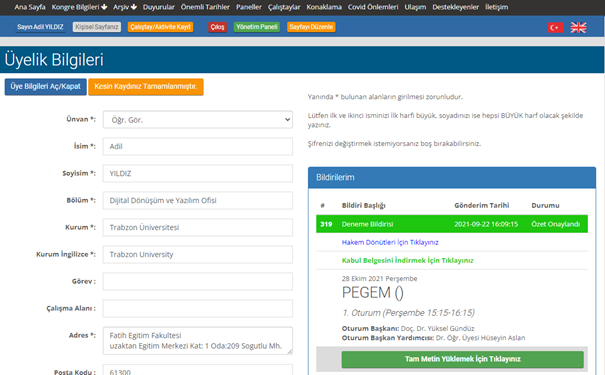 Gelen ekranda dosya seçicisi ile bilgisayarınızda bulunan kongre şablonuna uygun hazırlanmış Tam Metin dosyanızı seçiniz. Ve ardından "Dosya Gönder" düğmesini basınız. Bu düğme dosyanızı sisteme iletecek ancak bilim kuruluna göndermek üzere ONAYLAMAYACAKTIR.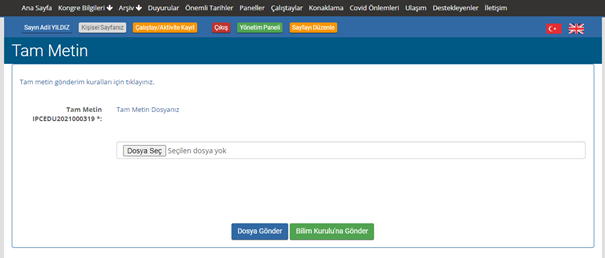 Gelen ekranda "Tam Metin Dosyanız" bağlantısına tıklayarak sisteme yüklediğiniz dosyanın göndermek istediğiniz dosya olup olmadığını teyit ettikten sonra "Bilim Kurulu'na Gönder" düğmesine tıklayarak gönderiminizi onaylayın. Eğer dosyanız hatalı ise dosya seçici ile tekrar seçip "Dosya Gönder" düğmesine basarak tekrar yükleyiniz ve ardından kontrol edip Bilim Kurulu'na gönderiniz. Bilim Kurulu'na gönderim yaptıktan sonra dosya üzerinde değişiklik yapamayacaksınız.
Çevrimiçi Oturumlara Erişim Kılavuzu
Sempozyum çevrimiçi yapılacağından sanal oturumlara katılım bilgileri ve bildiri sunumları ile ilgili teknik bilgilere ilişkin kılavuza erişmek için
tıklayınız.
Program Change
Dr. Xiangyang Zhang's "To Change or to be Changed, That Is the Question for Higher Education in Digital Era" seminar time has been changed and the presentation will be held in the Main Hall at 16:15.
JITTE Özel Sayı
Seçilen bildirilerden dergide yayınlanmak için değerlendirilmek üzere özel sayı basılacaktır.
Full text submission process
In order for full texts to be sent, the final registration process must be completed and the paper must be presented at the symposium. It is not possible to upload full text on the system without completing the final registration process. Thus, authors who cannot complete the final registration process on the web page must first complete their final registration.
After the final registration, you can log in with your membership information and click the "Click to Upload Full Text" link below your notification.
Click for Sample Full Text E-Book Template ...
Abstract Book
The abstract book will be published on 20 December 2021 from the papers presented at the symposium.